Converting new donors: a case study
In the nonprofit fundraising world, we're constantly racking our brains trying to think of creative ways to attract donors for our clients. If you're like us, you're probably doing the same thing!
Tapping into a different network is a great strategy to reach new donors who care about a particular cause—and our successful collaboration with Care2 on behalf of the African Wildlife Foundation (AWF) is proof that it works.
As an organization that fights to protect Africa's iconic wildlife, AWF was highly concerned about record-breaking poaching levels in 2013. Their goal for this particular campaign was to raise awareness about poaching and form a base of engaged supporters who would take action against it.
With their extensive network of activism-minded members, we knew that Care2 would make an excellent partner in growing AWF's list. We created two petitions explaining the dire situation in Africa and asking people to support the government in making anti-poaching efforts a high priority.
Over a span of two weeks in July of 2013, both client-branded and Care2-branded petitions were promoted across the Care2 network. At the end of this run, AWF was able to recruit 29,000 new supporters!
Next, we implemented a four-part series to convert these new Care2 recruits into AWF donors: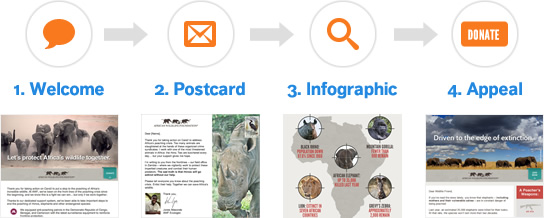 Welcome email: First, we thanked petition signers for taking action on Care2, explaining how their support helps AWF take important steps to end poaching in Africa.

Follow-up postcard: Our second email was a postcard from Jones Masonde, an AWF ecologist working on the ground with rhinos in Africa. Receiving an email from someone who sees the horrors of poaching first-hand helped deepen the connection for readers—who were then encouraged to spread awareness of the poaching crisis by asking their friends to sign the petition on social media.

Poaching infographic: Our third email was an infographic breaking down elements of the poaching crisis, including the danger faced by particular animals, the commodities they are killed for, tactics used by poachers and what AWF is doing to save these animals from extinction. This strategy introduced AWF's larger mission of protecting the wildlife and wild lands of Africa and prepped the prospective donor to be a part of it all.

Appeal: At this point—with the new audience fully cultivated and immersed in AWF's world—we introduced our final email in the conversion series. Through an appeal by AWF CEO Patrick Bergin, we urged supporters to take their commitment to the next level by making a gift to AWF. Donors were also given the option to join AWF as a member at a special Care2 rate.
In just five months, AWF saw a 110% return on investment and generated 737 new donors. The campaign demonstrated that Care2 members are passionate, ready to take action and willing to take their commitment to the next level—by donating.
AWF is thrilled to see their investment paid off in the form of dedicated new supporters, and we are excited to collaborate with them and Care2 on similar online strategies in the future.
Congratulations to everyone involved in this successful campaign—we're honored to have a hand in protecting Africa's wildlife.
click here to read the full case study, published recently by Care2.