Changing the game in the fight against sex trafficking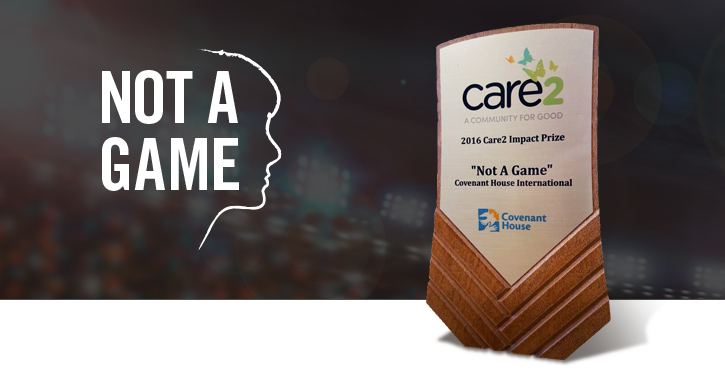 Wings? Check. Beer? Check. Big screen TV? Your favorite jersey? Check, check, check.
For so many, these are the typical preparations that go into "the big game." Here at Sanky, though, we gear up for Game Day a bit differently.
We are armed with the unfortunate knowledge that major sporting events are some of the largest sex trafficking marketplaces in our country—with Game Day in early February being especially lucrative. This connection is not intuitive to most—which is scary, as this horrifying activity tends to happen right under our collective noses.
Our client, Covenant House, provides lifesaving shelter and care to homeless children—many of whom have fallen victim to trafficking. Together with Covenant House, we work to educate the public and elected officials on how to unite to prevent this shocking and devastating activity.
We want the world to know: Sex trafficking is Not a Game.
The challenge? Clearly and effectively communicating the gravity of this issue in a way that rallies immediate support and enforces the need for cooperative action. To do this, we developed a multifaceted advocacy campaign—Not a Game—with a goal of generating awareness and support. This year's updated campaign included the following elements:
A dedicated, interactive microsite, which included a dynamic countdown clock, shareable infographics and images illustrating the issue and a custom-built petition platform, allowing users to urge others to stand with the AG in California—where this year's big game took place—as she worked to protect innocent kids from trafficking

A Thunderclap component, which surpassed its supporter goal by 259%

A series of strategic cultivation pieces, advocacy emails and social media posts—all of which urged supporters to sign the microsite petition
In addition, our partners at Care2 and Change.org hosted their own versions of our petition, helping us broaden our reach and generate even more awareness for the issue. A series of advertisements and emails went out through publication partners, as well.
By Game Day, we had reached thousands across multiple channels with our powerful message, and nearly 20,000 supporters signed our microsite petition.
To top it off, our Not a Game campaign won the 2016 Care2 Impact Award, reinforcing our belief that this vital campaign made a powerful impact on new and existing audiences.
As we and Covenant House know, Game Day may be over, but the issue is far from resolved. Our work will continue, driven by the success of this year's Not a Game campaign.