The big 2016 list of Sanky resolutions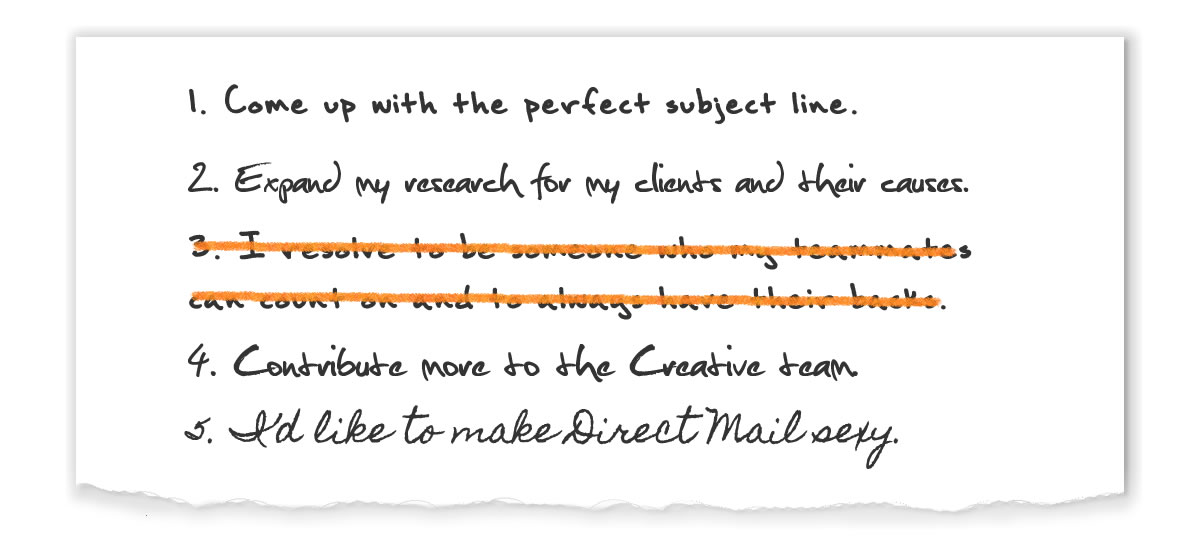 Before the New Year, we looked back at just a few of the accomplishments we were proud of in 2015… and now with the first month of 2016 already under our belts, we thought we'd better share some of the new goals our team has their eyes on in the year ahead!
Enjoy Sanky's big list of professional and personal resolutions for 2016. Hope they inspire you to make your own!
What is one professional resolution you hope to fulfill at Sanky in 2016?
Use my SEM expertise to lead the charge in organic search!

Be proud of the projects I accomplish, even if I fail or make mistakes, and ensure that I take the lessons learned to improve on the next!

I would like to work with an organization that's new to me and boost their mission.

Come up with the perfect subject line.

Try to get to the daily meditations* more often, and take a break at least once a day.

Expand my research for my clients and their causes.

Participating in bigger and more challenging projects/to-dos.

I hope to improve on all of my skills overall, but I especially hope to go from expert to super expert with various email systems, including Convio, Silverpop, and Salesforce. Too much information is always a good thing!
Slack off less in Slack, but use more emojis.

I resolve to be someone who my teammates can count on and to always have their backs.

I'm looking forward to expanding our relationship with our clients and creating wonderful content for them all year long!

Look for new, innovative ways to work smarter and faster.

Contribute more to the Creative team.

I'd like to change the game for User Experience design and animation.

Speak with coworkers more!

Learn more about the ins and outs of production

I'd like to make Direct Mail sexy.
*Yep! Our office holds a guided meditation session every day for anyone who wants to go. It's so we can reach the right level of 'zen' to serve our clients best!
What is one personal resolution you wouldn't mind sharing?
I'd like to make my screen time valuable, and cut out the online minutes (or hours) that aren't fun, enlightening, or relaxing.

Finish projects involving an arduino board, such as Pumpktris or the 8-bit Annoying Person Remover... both of which can be found on youtube.

Learn patience.

Finally become a morning person.

Find one thing in common with every person I meet so I can make genuine connections with people.

Finish my master's degree.

Do more DIY stuff.

Master more programming languages while staying healthy.

Bake more!

I resolve to never forget the good things in life that are always around us.

Continue improving my guitar skills.

Drink less beer and save money.

Eat healthier and exercise more frequently. And try to smile every day.

Continue efforts to not allow other people's energy to become mine. To not take on all of the problems of those around me as my own.

I'm starting a cookbook club with my girlfriends. We're going to make different recipes out of the same cookbook each month and have a dinner party.

Improve my physical health.
Resolutions. We've all got them this time of year. What are your professional hopes for 2016? We'd love to hear 'em! Share them with us on our Twitter or Facebook!