Sanky wins SIX IAC Awards
Sanky Communications won six awards at this year's Internet Advertising Competition! The IAC Awards judges the best online advertising in 96 industries and 9 online formats including online ad, video, mobile, newsletter, email and social media. These awards also earned us a place as one of seven outstanding agencies this year.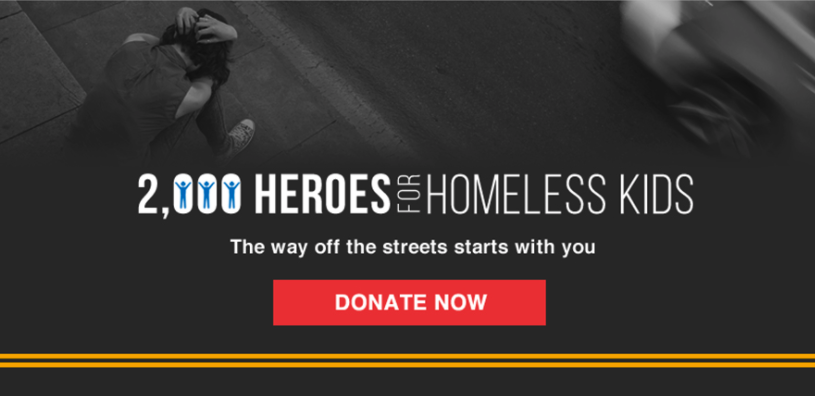 Best of Show
Best Nonprofit Email Message
Covenant House, 2,000 Heroes for Homeless Kids
Our client, Covenant House, has been providing loving care and vital services to homeless youth since 1972. With a 2,000-supporter goal set for their donor drive this summer, we knew it would be critical to position the impact of a single person's gift in a compelling, succinct manner.

To establish this message with prospective donors, we created an email that does more than just tell the journey of a homeless child — but allows the reader to go on that journey with them. As one moves through the email, you are immediately drawn into the gritty visuals and strong language of "life on the streets." You are then "brought into" the walls of Covenant House — with brighter, more hopeful content to describe the organization's transformative services.

By allowing a reader to feel the experiences of a homeless kid, paired with the concrete resources of Covenant House, we reinforced the lifesaving impact of a person's donation — all in one powerful email.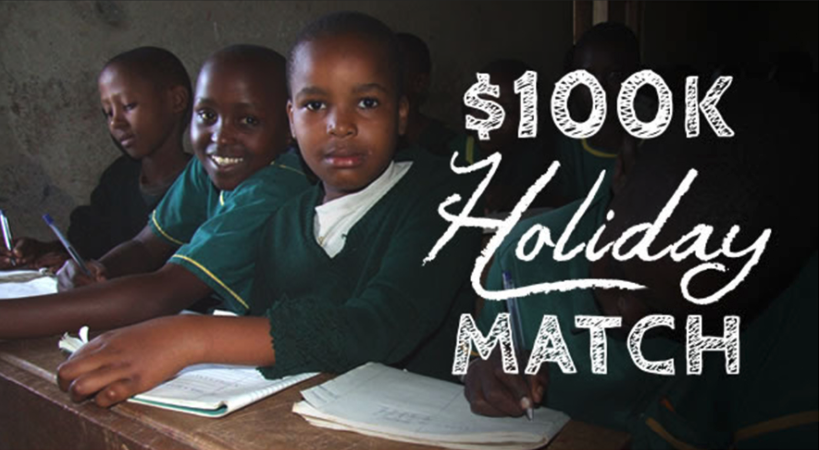 Best Nonprofit Email Message Campaign
Classroom Africa, Holiday Year-End Campaign
We developed a campaign for Classroom Africa that would take advantage of the tax deduction deadline and introduce a $100,000 holiday match to multiply a donor's support.

Classroom Africa's photography tells its story: this organization is dedicated to uplifting Africa's children by bringing high-quality teachers and sustainable schools to rural communities that normally would not receive these resources.

Our email campaign began with the story of Djambo, a boy who now attends a Classroom Africa school, with prominent calls to action to double your gift. The campaign continued with increasingly visual appeals, including a gift guide that showed users how their donation would give double the school supplies, and an actual report card from a Classroom Africa student.

In order to increase urgency, an extension deadline was added to give supporters the opportunity to triple their gift for a limited time. This tactic brought a sizable increase in donors for the relatively new organization.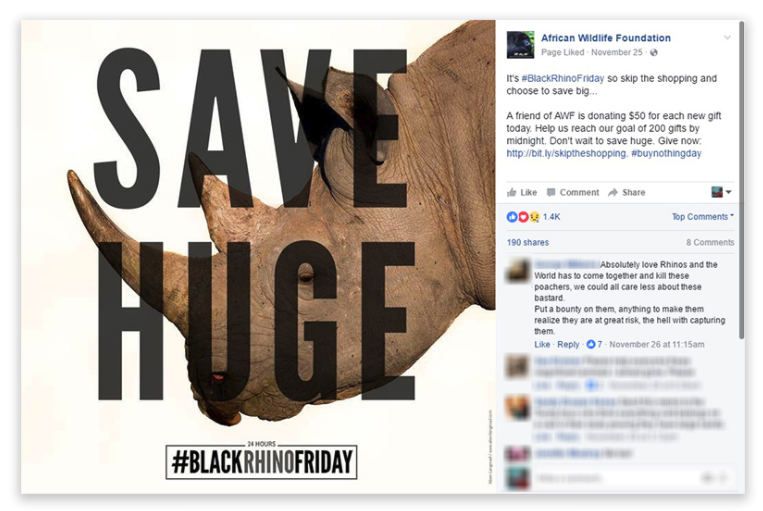 Outstanding Social Media Campaign
African Wildlife Foundation, Black Rhino Friday
We helped African Wildlife Foundation turn hyper-consumerism on its head by encouraging its social media followers to save something meaningful: the critically endangered black rhino.

Social media posts, which ran throughout the day, used high-impact visuals and simple copy including, "Save Huge," "Save a Ton … or two" (featuring two rhinos), and "Save a Little More" (featuring a photo of a baby rhino).

The 2016 #blackrhinofriday campaign increased the number of AWF's Black Friday gifts by 64% and total giving by 71% over the previous year.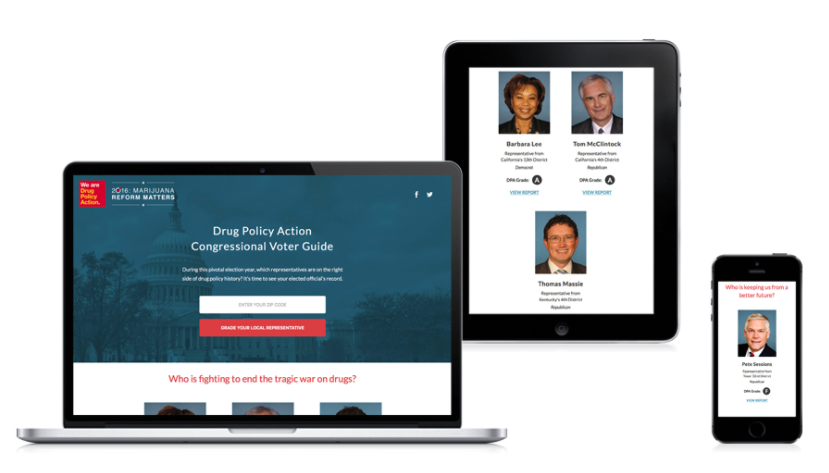 Outstanding Website
The Drug Policy Alliance realized the 2016 presidential election — and the months leading up to it — would be a pivotal period for its cause. We leveraged it by creating an online campaign for Drug Policy Action, DPA's advocacy arm, to showcase elected officials' stances on drug policy reform in a powerful, shareable format.

The campaign's landing page, which merged succinct copy and slick design, had "report cards" that assigned grades to elected officials based on their position on drug policy reform. Grades were based on an analysis of seven House votes, and members who voted consistently for progressive policies earned an A+.

The call-to-action was simple: enter your zip code to see your official's voting history, and share the report card with your friends and family. Launched ahead of the election, the message was clear and powerful — if they are up for re-election, let this grading tool inform your choice.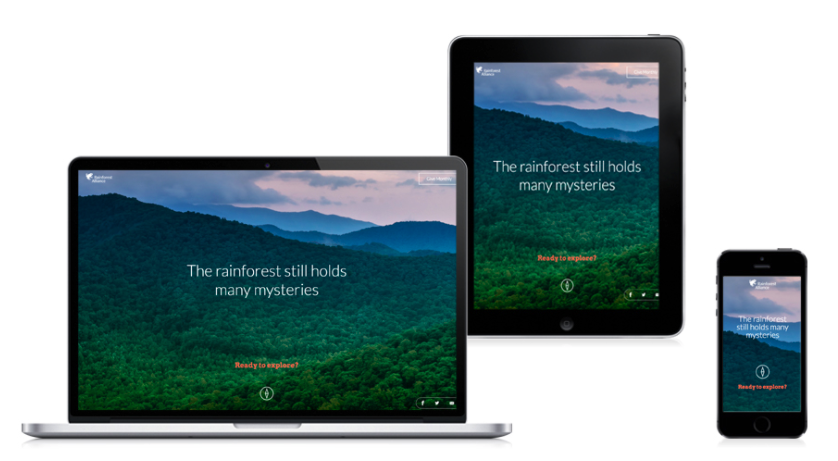 Outstanding Website
In Rainforest Mysteries, we decided to showcase newly discovered plant and animal species in order to educate new and current donors about the incredible biodiversity of rainforests.

Thousands of new species are discovered yearly. We chose four for the user to "uncover" by clicking on each icon to reveal a photo and explanation of how and where the species was discovered. To drive home the point that there's still so much left to learn about rainforests, the fifth frame suggests what could still be out there.

Unfortunately, the decimation of rainforests mean that many species will never be discovered. The sixth frame introduces need by sharing the facts with users and inviting them to become Forest Guardians, who make monthly gifts to ensure the protection of biodiversity and forests worldwide. Finally, the last frame gives users an opportunity to stay informed through email, and a static share button toolbar allows them to share on social media at any point in their experience.
We are so proud of the great work of these clients (and our others) and so happy to be helping these organizations work toward their inspiring missions.
Interested in learning about how Sanky can help your organization? Reach out to us!