Harry Lynch Awarded DMFA Marketer of the Year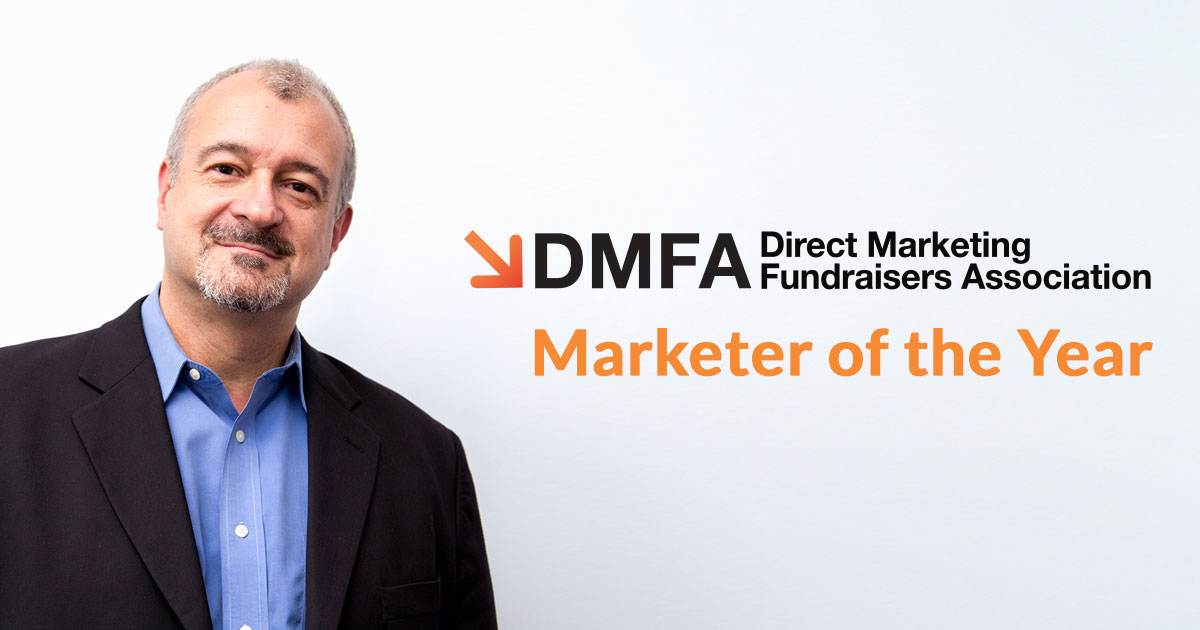 We're super proud! But not exactly surprised. If you're looking for a DMFA member who has made significant contributions to the field, you could hardly do better than Harry Lynch.
Harry's work as a direct market fundraiser is the stuff of legend. Since joining the industry in the 80s, he's accomplished unparalleled work in every aspect of the field. As CEO of Sanky Communications, he's still at it every day, driving award-winning creative and overseeing strategy for our nonprofit clients.
Harry launched Sanky's Internet Marketing division in 1998 – back when internet fundraising was still a new and scary beast – and has continued to lead Sanky's growing team in defining, testing, and developing methods that have become standard practice throughout the fundraising community.
But for all that, we know that Harry is probably most respected for his leadership and devotion to the direct marketing and fundraising community, not to mention a former past president of the Direct Marketing Fundraising Association. He's a sought-after speaker on multiple direct fundraising topics. He's also been an officer or board member for a number of fundraising associations, including Association of Fundraising Professionals (AFP), AFP Foundations for Philanthropy, and ADRFCO.
And it doesn't hurt that Harry is known as one of the nicest guys in New York (pro-tip: ask him how he first joined the Sanky team himself!).
Harry received his award at the DMFA Year End Luncheon on December 6 in front of more than 150 industry colleagues who gathered to honor him. In her tribute speech, Valerie Vierengal, Director of Donor Stewardship at the ASPCA, recounted many of Harry's achievements and asked the crowd to raise a hand if they had been impacted by his work. A flood of hands went into the air.
Harry was touched – and maybe just a little embarrassed – by all the fuss. He has since returned to mortal life and is busy ensuring that everyone around him has what they need to achieve greatness.