Attending Fundraising Day in New York? Use this app!
Plans this Friday, June 12th? Sanky will be at Fundraising Day in New York — the largest one-day conference in the world on philanthropic topics.
We know you're always looking for ways to up your fundraising game and FRDNY is just the place to do it. This year, there is a brand new way to make the day even better: the FRDNY app.

Trying to stay organized at FRDNY can be insane — we know from experience. That's why our sister company, CODID, developed an app tailor-made for this conference. This exciting new addition won't just help you make the most of your packed day, it might also earn you a tasty beverage (but more about that later).
For now, have a look at some of the FRDNY app's great features: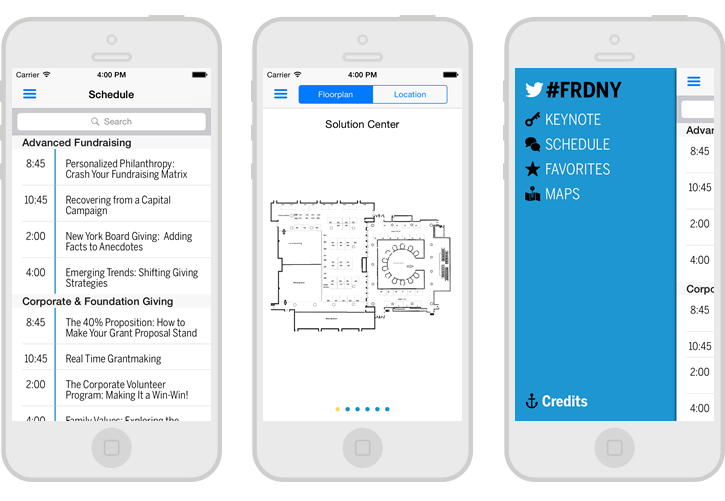 Customized scheduling. Pick and organize all your favorite panels and events in one place so you don't miss a single event!
A detailed conference map. Avoid the anxiety of finding your way around in all the hustle with a full FRDNY floorplan right at your finger tips.
Instant access to social media. Easily connect to the #FRDNY conversation online with the app's convenient Twitter feature.
Download the app before your day begins and you'll have everything you need to schedule your day and join the conversation on social media! And if you stop by our booth (#204) with your FRDNY app, you might also win a round on us.
Interested? Here's how you can enjoy a free drink at FRDNY:
Download the app from the iTunes store and watch your day become incredibly efficient.

Visit the Sanky team at booth #204 in the Solutions Center Room.

Join the celebrations at the end of the day with a round on us! The first 20 booth visitors get their tasty beverage free at the Marriott's 8th Floor Broadway Lounge.
And that's it! 1, 2, 3… new app, new drink!
There is nothing like 1,800 of your fundraising colleagues under one roof, learning and networking together. See you this Friday at FRDNY!
Haven't signed up yet? Don't worry! You can still register now for FRDNY here. And once you do, don't forget to visit the Sanky team at Booth #204!
Like what you read? Check out this related post:
read now