Community-Centric Fundraising: An Equitable Approach to Philanthropy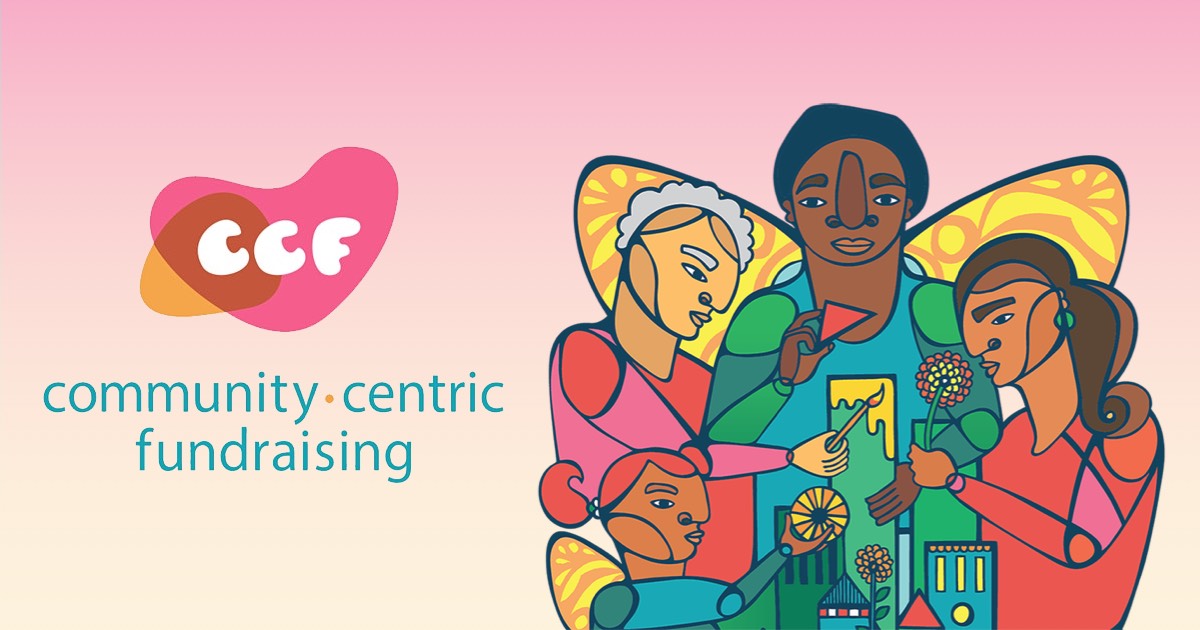 At their core, nonprofit organizations exist to improve lives at the micro- or macro- levels, aiming their focus and targeting their fundraising efforts on local, state, national, or global scales. But to many, the traditional methods of fundraising perpetuate the very inequity nonprofits work to solve. This practice — referred to as donor-centrism — has come under sharp criticism with the rise of its counter-argument, community-centric fundraising.
Community-centric fundraising (CCF) calls on us to ground development and philanthropy practices in social and economic justice. In this post, we'll explore the differences between donor-centric and community-centric approaches, and how to implement CCF principles in your development strategy.
What is Donor-Centric Fundraising?
It's exactly what it sounds like: centering the donor's experience when raising money. In some senses, it's about developing relationships with donors that inspire loyalty (and bigger repeat gifts) by expressing gratitude for their support.
It's been standard practice for some time — at least since Penelope Burk published Donor-Centered Fundraising in 2003. You've likely seen it before — language that pulls at the donor's heartstrings to get them to feel powerful and impactful, like:
"Be a hero by donating now"

"These people need your help"

"You are making a difference in the world"

"Program X happened because of you"
There's nothing wrong with communicating donor impact. But the truth is that many theories and practices at the root of philanthropy and fundraising ignore the ways in which our sector perpetuates the injustices they hope to end, and crowds out the voices of those actually affected by injustice — folks who often have the best solutions.
In her introduction to the 2007 essay collection, The Revolution Will Not Be Funded, Andrea Smith writes that the current "framework of funding, in which organizations expect to be funded by benefactors rather than by their constituents, negatively impacts social movements."
This includes donor-centric fundraising. Centering the donor can reinforce the idea that donors — most of whom are white and wealthy — are saviors, while community members — who are often marginalized at the intersections of race, class, gender, and/or sexuality — need to be saved.
Where did CCF come from?
Community-centric fundraising widens the scope. It's not all about donors; It's about everyone involved in the movement at every level — community members, staff, volunteers, and donors alike.
One guiding voice for community-centric fundraising comes from Vu Le, a Seattle-area nonprofit leader and writer behind the blog Nonprofit AF. In a 2015 blog post, Le argued for an evolution in the standard donor-centric fundraising model.
"What has been concerning me a bit lately, however, is the philosophy proposed by fundraisers that nonprofits 'put donors at the center of their universe,'" Le writes. "[T]hat we should make donors the protagonists/heroes of every story of impact."
That post, and the issues Le associates with centering donors and catering to their preferences, prompted discussions with leaders in the philanthropic sector. Two years later, the 10 Principles of Community-Centric Fundraising were created.
The 10 Principles of Community-Centric Fundraising
The 10 Principles of Community-Centric Fundraising are ever-evolving core principles that many fundraisers of color and allies developed together. They aren't one-size-fits-all, and may look different in practice. Instead, CCF encourages us to consider these principles as a starting point for implementing equity and justice in fundraising practices.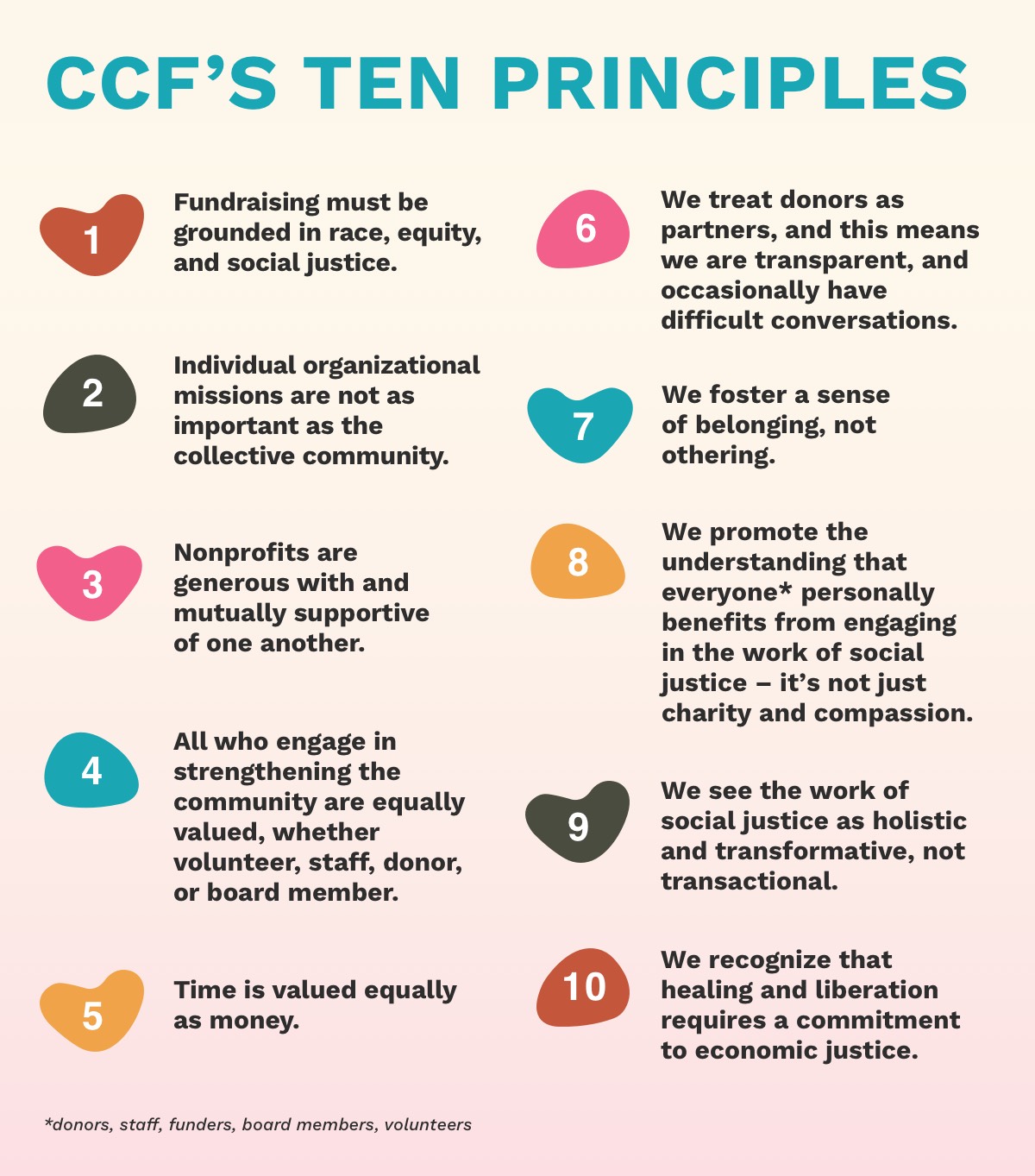 Is there proof CCF works?
Maybe. For now, the evidence (read: metrics) are firmly on the side of donor-centric fundraising. It may take months or even years for an organization to see a noticeable difference in their bottom line after implementing a community-centric strategy.
That said, there is no denying that the traditional model works — as in, it brings in money. Community-centric fundraising advocates like Le don't argue that point. The issue arises in the assumption that a nonprofit's goal is to bring in money.
Le and other CCF-aligned fundraisers believe a nonprofit's primary goal is to bring about equity and justice in their communities. "If something brings in a ton of money, but fails to increase equity and justice in the short or long run, or actually decreases it, then it is not 'working,'" Le writes in NonprofitAF.
Le encourages us to see CCF less as a model and more of a movement. It's a guiding set of principles that encourage us, and our donors, to examine where wealth has come from. It decenters the experience and appeasement of wealthy donors, and confronts the idea that traditional methods of fundraising have perpetuated the very racial and economic injustices we raise money to fight.
According to Le: "It's like asking the Black Lives Matter movement to 'prove' that it 'works.'"
How can I incorporate CCF's 10 Principles into my fundraising strategy?
We often hear what we're supposed to do, but lack the starting point to actually do it. Thankfully, the team over at Community-Centric Fundraising offers a helpful resource: the Aligned Actions worksheet.
Here, there are a few suggested actions for each principle, including sending volunteers handwritten thank-you notes and other forms of appreciation, to align with Principle 5 (Time is valued equally as money).
As said before, the 10 Principles are ever-evolving and are not one size fits all. If you plan to implement some or all of the 10 Principles, be mindful of your organization, its resources, your staff's bandwidth, your donor base, and more considerations as you work through this guide.
We would be remiss if we didn't plug our award-winning creative services. Sanky's team of strategists, account managers, writers, editors, designers, developers, and analysts are proud to support clients who have aligned their actions with community-centric fundraising. We've been in the fundraising game for nearly 50 years, and we've built a legacy of being eager to learn and adapt as the arc of justice bends. Just as the principles of CCF are iterative, so are we.
If you're interested in our process and capabilities, please reach out to learn more.
Note: Though we interact with organizations that are doing important diversity, equity, and inclusion work — and have proudly adopted anti-racist fundraising practices — Sanky is not a DEI consultant. If you're looking for more information in that area, we highly recommend our friend Jessica McCoppin at Do Good Work Well.
Like what you read? Check out this related post:
read now