We Won the WebAward for Non-Profit Standard of Excellence!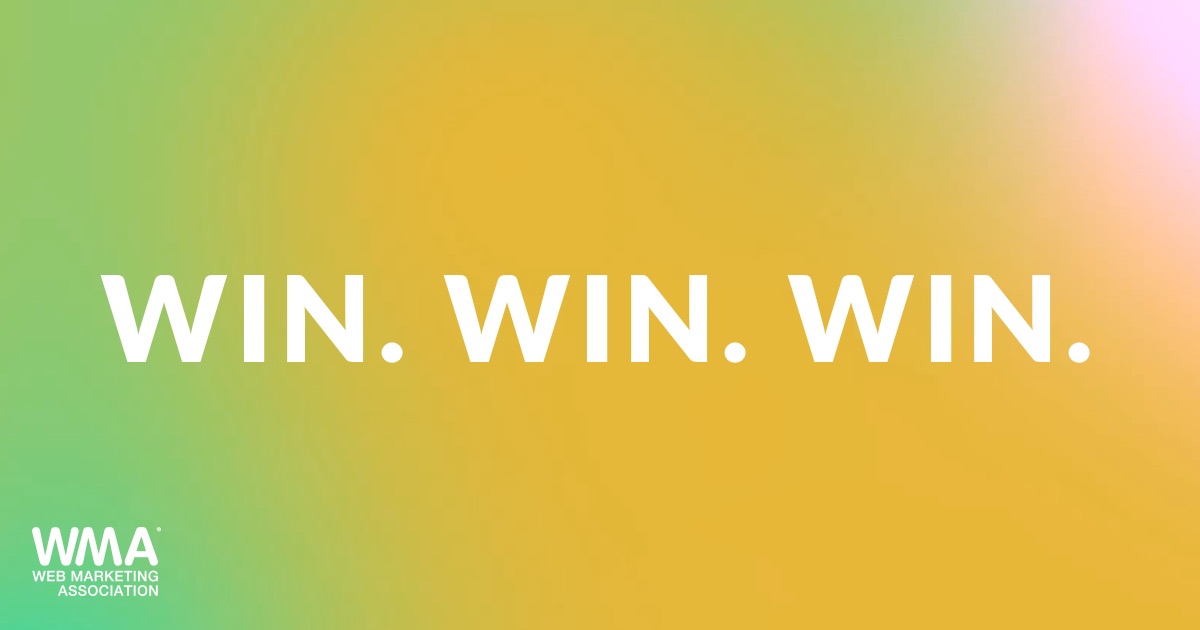 We can't seem to stop winning awards! We just won the WebAward for Non-Profit Standard of Excellence from the Web Marketing Association for our work on Panthera's website redesign.
The Web Marketing Association's annual WebAward Competition sets the standard of excellence for website development. Independent expert judges from around the world review sites in 86 industries, and only the best are recognized with a WebAward. This competition is the premier award recognition program for website developers and the online marketing community, and we couldn't be more proud to be winners — especially for Panthera, a client we are so proud to work with.
Founded in 2006, Panthera is one of the leading organizations devoted to the conservation of the world's 40 species of wild cats, as well as the ecosystems they inhabit. In addition to their mission to conserve and protect wild cats, they are also focused on wild cat education for all ages. They have an expansive core audience, ranging from donors to feline enthusiasts to scientific and institutional partners, so our redesign needed to be able to speak to a variety of different backgrounds and knowledge points, as well as bring in donations.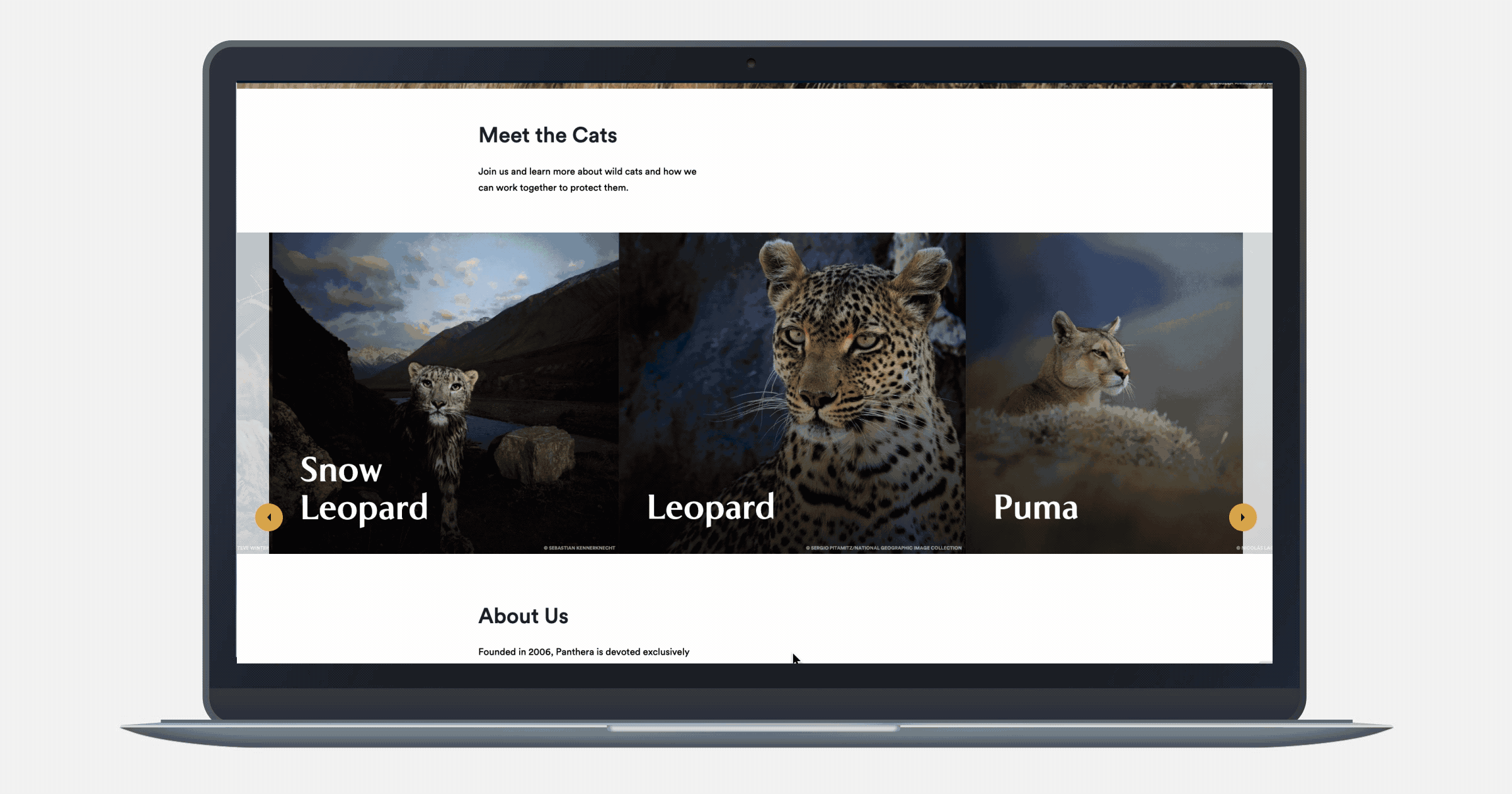 We started with an eye-catching main area that would be fun and engaging for any first-time visitor to the site: In this "Meet the Cats" section, you can learn about the seven species of big cats and get an overview of the 33 species of small cats. While these cat pages were a part of the old site, we reorganized them to make them top-level on the menu and UX. Each page features stunning photos of the cats, facts about them, information on the cat-related work Panthera is doing, an interactive map that shows where the cats live (both historically and currently), and a FAQ section. To encourage engagement, we made these cat pages more visual, scannable, and digestible. Tied into the cat pages are links to specific cat research, news, and fundraising — the primary landing pages from web traffic that we noticed when analyzing the old site.
Another prominent upgrade is the full-screen menu navigation. It's an upgrade visually, with beautiful cat photos in the background while you hover over a respective cat page, but more importantly, it's an organizational upgrade. A key part of this redesign was making the sitemap and UX more efficient.
We also added a large homepage slider, so Panthera can feature more timely and important links, making the website feel constantly relevant. The entire website can now be translated into any language too, with a Google Translate plug in. Panthera's work is global and so is their audience. This new translation feature makes their work accessible to anyone in the world with internet access.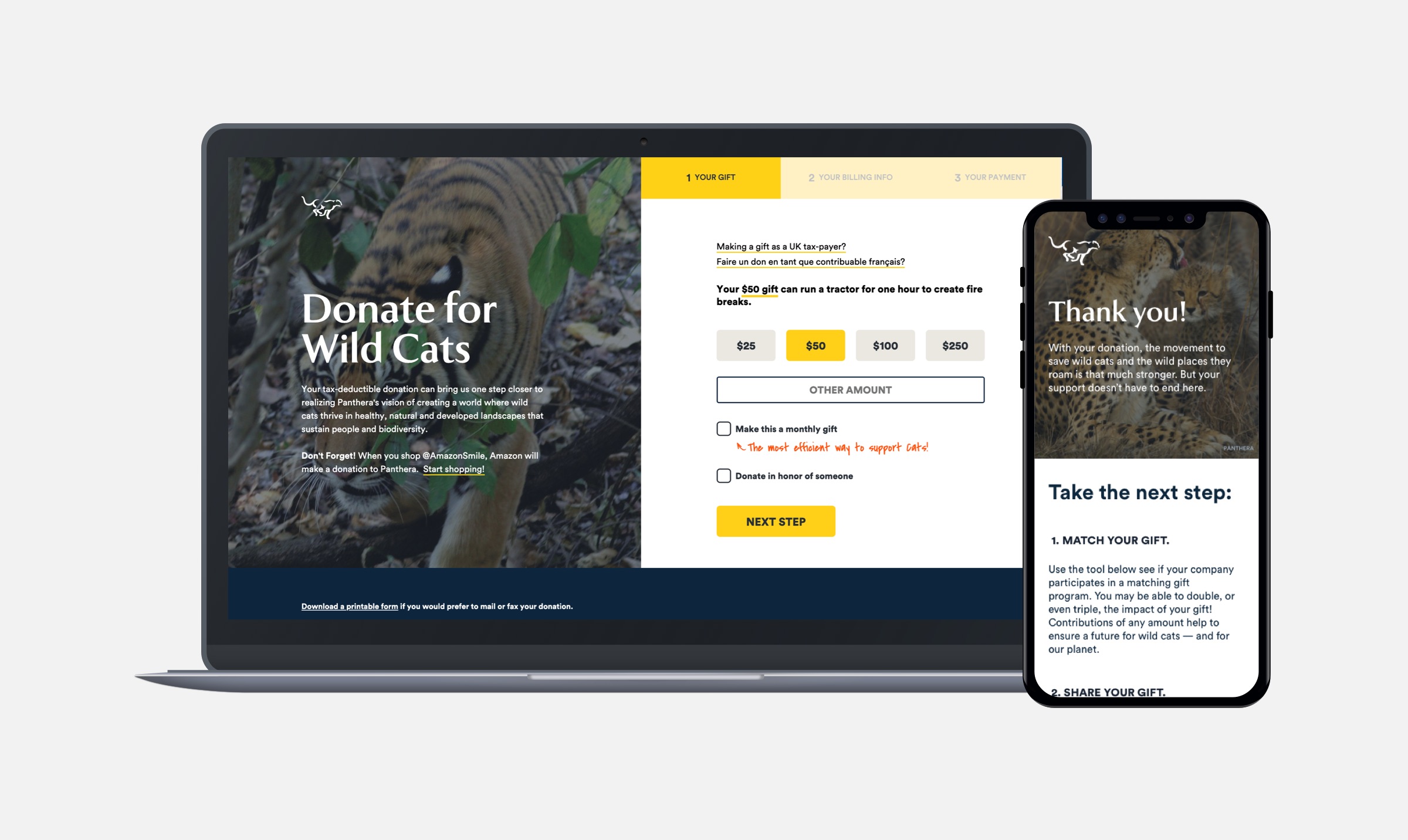 Obviously, as an agency that specializes in fundraising, we also had to revolutionize their donation forms. We know that the easier you make it for people to give, the more likely they are to actually do it, so the new donation forms are sleek and incredibly easy to use. Now, donors can make gifts in a matter of clicks, and at the bottom of the page is a widget where donors can search to see if their employer has a matching gift program. If they do, the widget links to a downloadable matching gift form and provides the donor with information on how much their employer will match.
We couldn't be more proud of the end result! This site is beautiful, user-friendly, highlights Panthera's mission, and should drive more traffic to their donation forms. A massive thank you to the Web Marketing Association for recognizing our work as the Non-Profit Standard of Excellence, and congratulations to all of our fellow winners!
Team
Clay Baucom, Assistant Tech Director
Ellie Boroughs, Content Manager
Piotr Major, Tech Director
Melissa Marino, Account Project Manager
Regina Ryan, Creative Director
Sneha Sinha, Creative Project Manager
Karl Smudski, Design Director
Peter Wood, Senior Web Developer
Like what you read? Check out this related post:
read now