We Brought Home Three More IAC Trophies!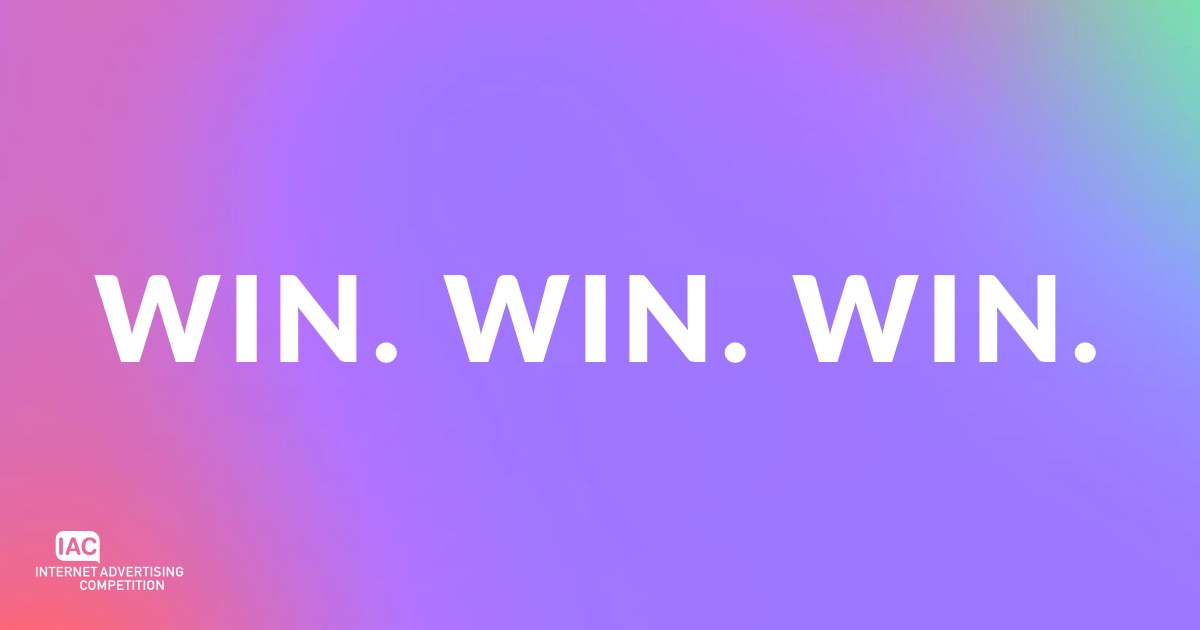 What's the icing on the cake when it comes to helping nonprofits do good? Taking home awards for our efforts! We just added three trophies to our shelf from the IAC Awards, which are annually given to the best online advertising campaigns across 96 countries, and judged in nine online formats. We won Best Nonprofit Interactive Application for The Hunger Project's High Touch campaign landing page, Best Nonprofit Email for Citymeals on Wheels' Pop Cultivation email, and Best Nonprofit Social Media Campaign for GLAAD's Holiday/Year-End campaign. Here's a look into those award-winning campaigns!
Best Nonprofit Interactive Application — The Hunger Project's High Touch Campaign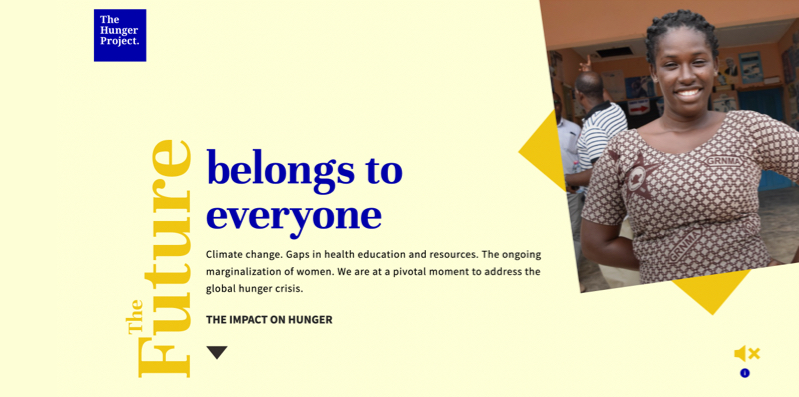 This landing page is a deep dive into the effects of the current food crisis, with a focus on work at the local level. While we included a donate call-to-action, the primary goals of the page were education, stewardship, and cultivation — centered around the idea that the future, food, opportunity, and planet belong to everyone.
Our copy calls out that systemic issues cannot be solved by "donors and recipients," but by rising to the challenge together and working alongside our global neighbors — which is why we prioritized community-centric messaging over donor-centric messaging.
Much of the content of the site is about hunger as a gender inequality issue, so the images highlight women across the world who are fighting to end hunger. They are images of strength and joy, rather than sadness and poverty — to remind donors that they aren't joining the fight to be the heroes but rather to support the work that is already being done.
Team:
Clay Baucom, Assistant Tech Director
Jamie Clayton, Digital Project Coordinator
Kira Dunleavy, Designer
Piotr Major, Tech Director
Lesedi Ntsele, Account Executive
Regina Ryan, Creative Director
Alexis Sachdev, Copywriter
Gianna Vollano, Account Project Manager
Peter Wood, Developer
Best Nonprofit Email — Citymeals on Wheels' Pop Cultivation Email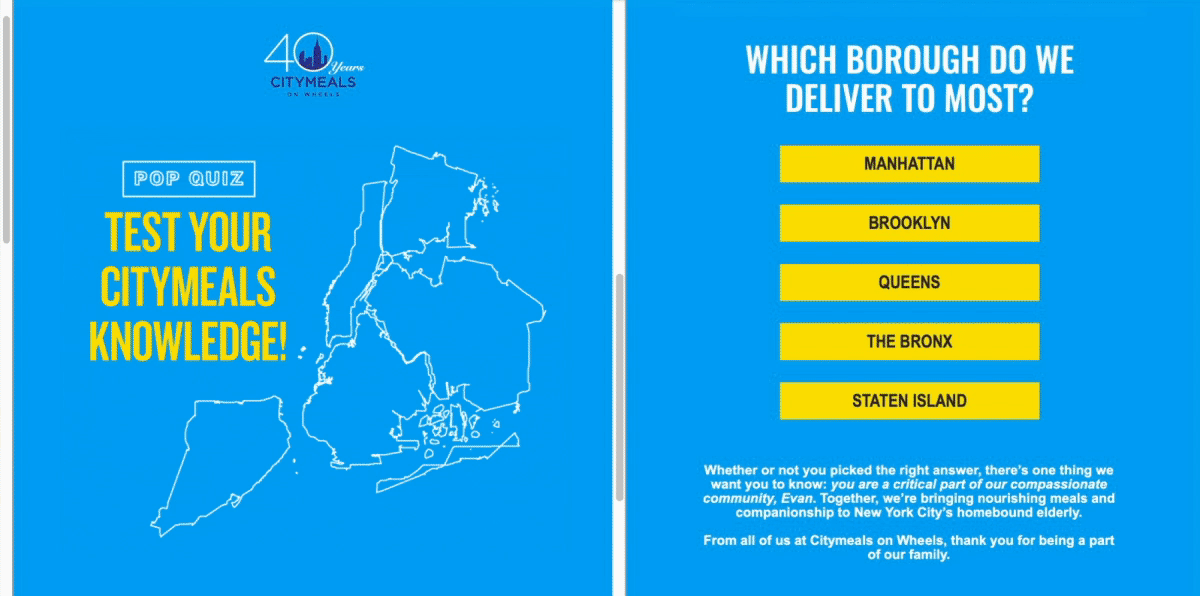 This email led off Citymeals' summer campaign — the first of their fiscal year. It was a new email concept for the organization, featuring a trivia question in a multiple-choice graphic.
The email asks subscribers to guess which borough Citymeals delivers the most meals to, which allows them the opportunity to think about the breadth of Citymeals' work. Clicking on any of the answer options leads to a duplicate of the general donation form, with the header title revealing the correct answer and subheader copy briefly expanding on Citymeals' story. This is a warm, fun engagement email, with a backend donation opportunity.
Team:
Julie Eisenlohr, Account Project Manager
Evan Ericson, Designer
Kate Greenhouse, Copywriter
Keith Gotcliffe, Senior Account Executive
Megan McDonell, Associate Copy Director
Regina Ryan, Creative Director
Karl Smudski, Design Director
Best Nonprofit Social Media Campaign — GLAAD Holiday/Year-End Campaign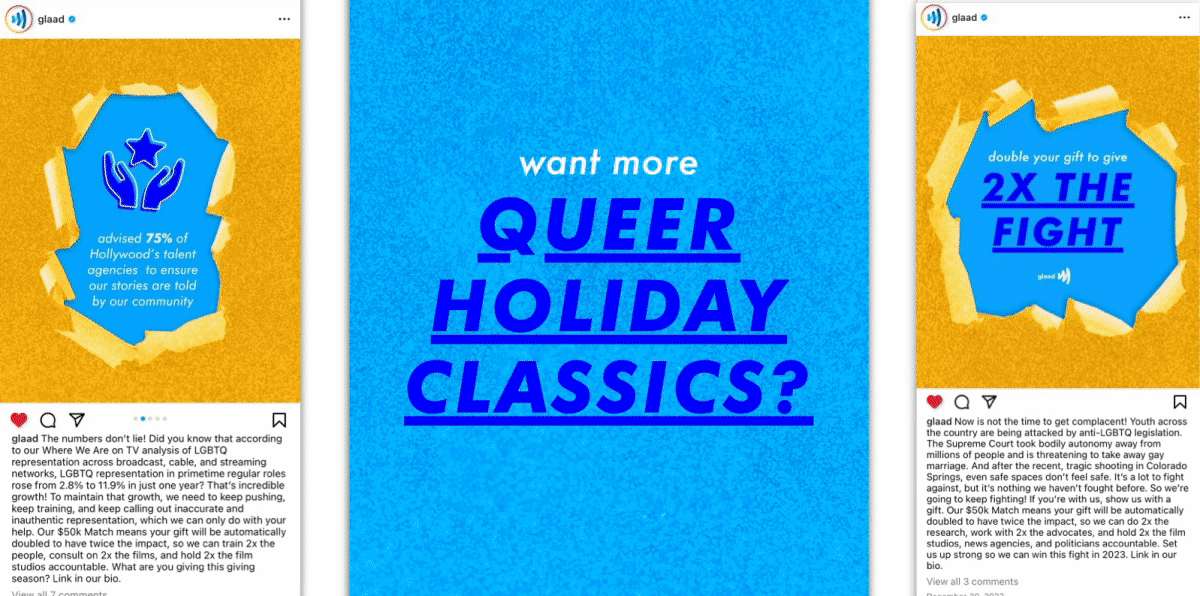 GLAAD is a newer client of ours, and this campaign was the third one we worked on for them. So while we worked to get fully acquainted with their audience and donor pool, we decided the best strategy for this campaign was to try a few different copy angles while keeping design all within the same brand. This allowed us to learn more about what aspects of the mission GLAAD's supporters care about, as well as begin to create a design language that subtly differentiates GLAAD's fundraising posts from the rest of their social posts — which is essential for an organization with such a strong social media presence.
Our first post played off of the phrase "It's giving…" to catch the attention of donors, and also people who may not yet be donors but who are familiar with the phrase. The phrase was memed quite a bit by Twitter users on Giving Tuesday this year, so we were also playing off of that. Two of the posts were statistic-heavy and highlighted the ways donors had helped make a difference in 2022, with one being focused on holding the media accountable and the other on the growth in representation in the last year. Another post leveraged holiday traditions by highlighting queer Christmas movies, and focused on how GLAAD's work to make such strides possible can only be done through donor support. Our penultimate post was a simple, match-specific post, and our last post was a battle cry, telling donors not to get complacent and listing off hurdles the community is up against going into 2023.
Overall, the six posts in the campaign were engaging to a more informal social media audience, while also highlighting GLAAD's incredibly important work.
Team:
Ellie Boroughs, Copywriter
Evan Ericson, Designer
Jordyn Key, Digital Project Coordinator
Megan McDonell, Associate Copy Director
Lian Petrie, Paid Media Manager
Regina Ryan, Creative Director
Will Sloneker, Account Executive
Karl Smudski, Design Director
Sierra Vorsheim, Digital Project Assistant
Congratulations again to our Sanky teams and to our fellow IAC winners!
Like what you read? Check out this related post:
read now